Michael Kossove: 'I Never Knew I Had Polio'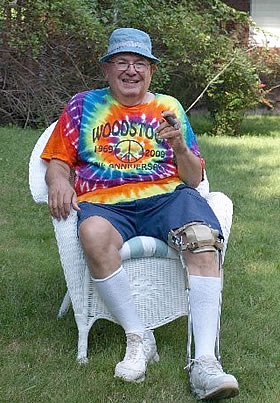 I am a Professor of Microbiology at Touro College in New York. I have been researching PPS and talking to support groups and at polio conferences for 15 years. I studied virology in graduate school with Dr. John Winsser, a researcher with Dr. Albert Sabin. Needless to say I learned everything about polio. After being invited to speak to local support groups in the New York area and listening to survivor stories, I had my best education on PPS.
About 17 years ago I began to experience symptoms of PPS, and my physician told me I was just associating these symptoms with my research. My left ankle and lower leg got so bad that my orthopedist sent me to a physiatrist in New York City who was around during the polio epidemics. He, after a thorough examination, told me I had the symptoms of PPS. He asked me to speak to my family. The only one alive was an 89-year-old aunt who was a nurse. He also prescribed an ankle-foot orthosis (AFO).
The following February, I was in Florida to speak to the Boca Raton PPS Group, and I stopped to visit my aunt. She broke the silence and confirmed that I had polio, but she couldn't remember how old I was when I became sick. I never knew I had polio. Today I wear a full-leg brace on my left leg, and an AFO on my right leg. I will eventually need a knee-ankle-foot orthosis (KAFO) on that leg, as well. I am 72 years old. I still go to school and teach three days a week. I think of this as just "a little inconvenience," and I have to be the luckiest guy in the world that I was not disabled all of this time.
— Michael Kossove