Ella Gaffney from Mudgee NSW Australia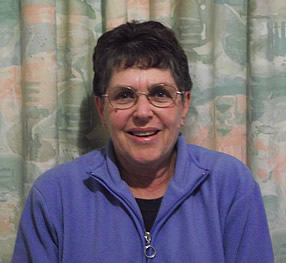 Hi I'm Ella Gaffney from Mudgee NSW Australia and I'm a Polio survivor now with PPS.
My journey started aged 5yrs 9 months, I had not been feeling well for a couple of days and one morning I tried to get out of bed but my legs wouldn't support me and I kept falling over. My Mum panicked and called our local Doctor. To this day I can still remember Dr Jennings arriving in his PJs, dressing gown and red hair all over the place. The date recorded in the Infectious diseases book was 11th March 1957.
The next thing I remember is that I'm at the local hospital in quarantine. My most vivid memories are of the pain that followed, including a Lumbar Puncture (Spinal tab). As luck would have it, our Doctor was up to date with Polio and had contact with others that used the Sr. Kenny method. For the next 24 to 48 hours following the Sr. Kenny method, Dr Jennings and the nursing staff worked their magic. I'm indebted to my Doctor and Nurses as only my left leg and hip was left affected with weak wasted muscles, dropped foot, and shorter than the other. I spent 3-4 weeks in quarantine at Mudgee Hospital then went to Camperdown Children's hospital in Sydney (about 4hrs away). I'm not sure how long I was there. Through the following years I had a series of operations on my leg including straightening my knee to face the same way as my foot, ankle Arthrodesis and a leg lengthening. I also used a full length calliper for a number of years, then a lower leg calliper and finally a built up shoe. The Specialist told Mum that I probably wouldn't be able to do a lot of things – but I proceeded to live a very full and happy life doing everything kids, teenagers and adults do including tree climbing, bike riding, dancing, driving a manual car, participating in high impact aerobics, body pump, step and RBM classes.
In October 1973 I married a wonderful man (still married). In May 1977 our little ray of sunshine in the shape of a girl arrived, and then in October 1979, our very active son joined the family. In October 2002 we were blessed with a delightful granddaughter who is the light of our life.
I'm not sure when the PPS symptoms started; I can remember things like not being able to walk as far because my leg seemed to be getting tired. And after a day out travelling and shopping, I would be very fatigued with muscle aches even in my good leg. Even the house work started to take longer. A lovely elderly neighbour must have noticed my new weakness because one day a PPS network poster was slipped under our front door. On the next visit to my current GP I asked about PPS and was told there was no such thing, so I let it go. But my symptoms seemed to be getting worse, my left leg was weaker and I started to have a few near falls because my leg would just give way for no reason. The aches, pains, cramps and fatigue was becoming more frequent, but still not getting anywhere with my GP, I started to think it was all in my head. When my current GP left and a new English (very young) Doctor arrived I asked his opinion on PPS He did a lot of research and I'm now back in a lower leg calliper, and Canadian crutches and I'm learning to pace myself. After further follow up it looks like I'll be in a Stance Control Knee, Ankle, Foot Orthosis, but with the grace of God, I'll still be on my feet for a while longer so all is good with my life.
In closing I'd like to thank everyone involved in the Post Polio Network in Australia they do a fantastic job publicising the effects of PPS and the help and support is available. This April, 2010 they organised the first Australian Polio Health and Wellness Retreat. It was outstanding. Also thank you for this site 'Polio Today', it's great to connect with other survivors around the world and be able to share with and learn their stories.
Thank you
Ella Gaffney