Polio Survivor Mary McManus Finds New Path in Life Through Poetry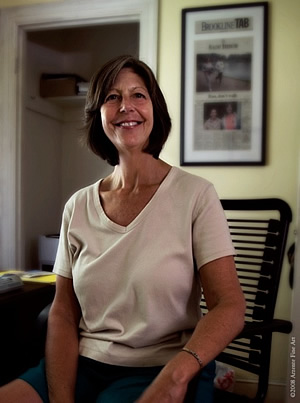 At the age of 5, I contracted paralytic polio. I was dancing around the gym and remember dropping to the ground. I was blessed to find a remarkable physiatrist and physical therapist who would work with me for the next eight years. I had a vision of God while lying paralyzed and God invited me into a well bucket. Despite being paralyzed, during this vision, I stepped into the well bucket. I knew I would be all right.
My mother was more paralyzed than I and she refused to touch me. So I would wait until my father or grandfather came home to assist me with toileting, dressing and bathing. But God sent me angels — such as Miss Holly, my physical therapist who would read Dr. Seuss to me before every physical therapy session. I regained the ability to walk albeit using a full leg brace for about a year and then I wore polio shoes with "cookies" (orthotics) in them.
Never being able to compete in athletics, I turned to academics with fervor. I was valedictorian of my high school class and graduated from Boston University with a degree in Communications and a master's in Social Work from Boston College. I was elected to Alpha Sigma Nu, the Jesuit Honor Society at Boston College. I went on with my life always detesting my body and feeling disconnected — head from heart, body and spirit.
I married, had twins and in 1996 began to experience symptoms of fatigue, weakness, pain and tremors. At that time, my symptoms were dismissed and in 2006 when they had reached the point of having difficulty swallowing, breathing, feeling a lump in my throat, my limp had returned, I had muscle pain, tremors, neck pain. I was told that I was experiencing empty nest syndrome and Post Traumatic Stress Disorder (from an abusive childhood) and needed an antidepressant.
I threw out the Paxil and Googled post-polio syndrome, feeling God speak to me in my moment of greatest despair. Spaulding Rehab's International Rehab Center for Polio was only 30 minutes from my house and I embarked on a healing journey. I went back into a brace, a wheelchair at times and used a cane. I quit my full time award-winning VA social work career to heal MY life after healing the lives of so many.
I discovered the gift of poetry in my soul and my life is on a whole new path. I am a published author and I donate 20% of the proceeds to Spaulding Rehab's Polio Fund. I created my own greeting card company, and have been so blessed to experience healing of mind, body and spirit. On April 20, 2009, I ran the Boston Marathon with my husband and daughter. We raised $10,535 for Spaulding Rehab Hospital.
I run only once a week now as part of my cardiovascular training and do strength training under the supervision of a personal trainer. I see an energy healer/physical therapist. I have to rest when I am tired, eat when I am hungry (making sure I eat slowly to avoid aspiration) and pace my day, but I am so blessed to have found my passion in poetry.
I have found a purpose in bringing awareness of polio and post-polio syndrome and raising funds for this disease, which has touched my life and the lives of so many. I have learned how to say no to others and yes to myself and as soon as I am out of balance, my body reminds me of what I need to do to stay healthy. And I bring hope, inspiration, and healing through my journey with polio and post-polio syndrome that no matter what, we are healthy, whole, beautiful beings — pure and perfect in Spirit!
Mary McManus
newworldgreetings.blogspot.com
Submitted to Poliotoday.org 08/05/09